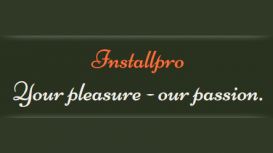 Company is specialising in all domestic types of installation for kitchens and bathrooms, construction and steel beam fitting to open plans properties include professional designing, planing and advice, all aspects of property refurbishments, domestic heating engineering - boilers, cookers, fireplaces, range cookers, landlords gas safety certificates, tiling, plastering and decorating. All works undertaken professionally by qualified and experienced staff up to the building regulations requirement and british standarts.
Thanks to combined multi trade skills by each professionally staff in Installpro we are able to develop and achieve new technologies in all domestic properties designs and finishing. The trade skills are combined the way that it allows to bring the best possible finish products, for example bathroom fitters have the plumber and electrician, tiler skills. Carpenters can fit the floors and professionally finish it include sanding and varnishing. Kitchen installers are capable to rearrange the existing power sockets, fit professionally any type of kitchen with modern granite (natural stone) worktop, rearrange with cut to measure any kitchen unit the way which allow the best possible finish in to new and old properties.
---
Reviews and Ratings
Daniel Klein, Woodford, East London
Caution! Marek did a good job at sanding, and was very polite and courteous .... at first. Our floor ended with long dark stain lines Marek saying it was normal!? Marek also took other jobs for us such as re-doing 3 cupboard doors, however the paint we supplied was wrong but Marek did carry on the job anyway and failed informing us, when he applied the doors, the doors had not been painted on the inside, they had numerous missing screws and hinges started twisting and the door falling. I complained and asked Marek to fix the problems.

When Marek arrived, he was all winded up and rather aggressive, arguing and kept on accusing us of being responsible. He started shouting i told him to leave, Marek then asked i come out of my house for a fight .... He then sent me a text saying - "I'm going to leave your 100£ on the security gate. If you're going to call me a theft again I'm going to smash your face". No need to explain that such approach from any business is poor but also becoming aggressive and threatening like so is not acceptable. I do not recommend his services as he failed us and his aggressive behaviour better stop there.