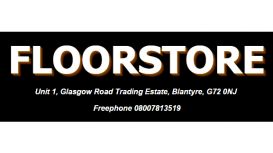 Compare these prices now, in any retail park. If any vendor can match us, we will discount the quote by a further 5%! Please visit us, in our new Showroom, to enjoy the latest designs at the lowest prices. Enjoy a cuppa, over a friendly, experienced and consultative chat. Meet the team to enjoy peace of mind, as we only request the final balance, when the job is complete, safe in the Floor Store, Service Level Agreement.
---
Reviews and Ratings
Dana Carcary, East Kilbride, South Lanarkshire
My sister nurse millar went to the floor store Blantyre to be served by Brian Reid who took her order and then proceeded to con her out of thousands of pounds by not providing her with her flooring. He did up his own house with her money. She asked James from the Floor Store for his help as it happened in his shop and he now avoids her calls. What a disgrace leaving someone in that state 2 weeks to Christmas.