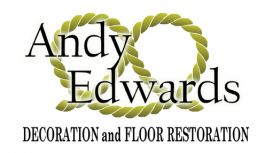 By stripping away the layers of paint on a floor, the clean layer of wood is revealed which is then waxed to produce a natural-looking finish. Internal joinery can also be stripped to compliment the floor. Floor restoration has now become a major part of Andy's repertoire, and this new lease of life can be applied to floorboards, parquet flooring and all types of hard or soft wood floors.
Estimates can be provided over the telephone or via email as long as accurate measurements are provided. Pricing is costed per square metre, and the estimate given will include sanding, minor repairs (if necessary) and finishing with three varnish coats. Andy is also able to visit your home/premises and provide a free, no obligation estimate (depending on distance), and can advise on what process would be required.
A range of floor sanding can also be provided. Sanding a floor involves stripping away layers of wood to reveal a clean surface which can then be made good and treated in a variety of ways. A question often asked is "Can I use the room the same day?" The answer is yes, as Andy uses a water-based lacquer which dries within a few hours. It should be stressed, however, that he recommends a period of 24 hours is allowed for proper drying.
---
Reviews and Ratings
We do not have any reviews about Andy Edwards available right now.